Thursday Thirteen: I'm in the Mood for Love
I've not only been incredibly positive and happy over the last week, I've also been really, really....worked up, shall we say. So I got to thinking about a few songs that make me get in the lovin' mood, or make me think of past experiences. So here's a list of some of the contenders. I present, Thursday Thirteen edition 11, I'm in the Mood for Love.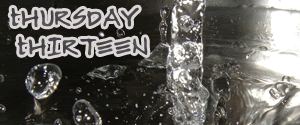 1)Have a Little Faith in Me - John Haitt.

This is such a great song, and John Haitt's version is definitely my favorite. In particular it reminds me of the movie "Benny and Joon", and the scene where Johnny Depp and Mary Stuart Masterson have their 'first time'. Outside of UPS, JD is my dream man. Oh Jack Sparrow, take me below deck! Pillage and plunder. Arrg Matey, indeed!

2)First Time Ever I Saw Your Face - Roberta Flack.

Turn the lights down ya'll, let's get romantic. This is a holdmeclose taaaakkkee youurrrr tiiimmmee kind of song.

3)Crazy Bitch - Buckcherry

This one is a tie-your-man-to-the-bed and fuck him like crazy song. Makes me feel flirty, dirty, and little bit dangerous.

4)Angel Eyes by The Jeff Healey Band

I have loved this song for-ev-er. What girl hasn't been playing the wallflower at a dance when you suddenly lock eyes with your high school crush, and you imagine him singing this about you...in the backseat of his car.

5)Feelin' Love - Paula Cole.

I feel so sexy when I hear this song. Confession time: If I'm alone and this song is playing, it doesn't take long before there's some red hot imaginary lovin' going on. All I need is this song and a fantasy. (The runner up to this is Lost Without You by Robin Thicke)

6)You Can Leave Your Hat On - Joe Cocker.

The stereotypical strip-tease song, and a fantasy I've yet to act out...give me time;)

7)Singin' in the Rain.

This one is slightly perverse...It reminds me of my high school boyfriend. We used to put in a movie and turn up the volume when we were getting it on. Often it was A Clockwork Orange. Oh, the memories...

8)She Hates Me - Puddle of Mud.

Along the lines of #7, R had a burned cd we'd crank up as we were getting down. By the time it got to this song, we were usually in the final throes...Ahh...

9)In Your Eyes - Peter Gabriel.

Just picture John Cusack and Ione Skye sweaty and trembling in the backseat of that car...and of course, the stereo above the head. To be 17 again...

10)Cowboy Take Me Away - Dixie Chicks.

This one is corny, I know. But tell me a tumble in the grass in the middle of nowhere doesn't sound enticing?
(A side note, in college I had a friend who worked as a drag queen, and was starting a band...I said they should call themselves the Chicksie Dicks. He laughed so hard coffee sprayed out of his nose. It was very funny.)

11)Crazy on You/Magic Man - Heart.

Both of these make me feel like I'm on an uncontrollable psychedelic trip. Makes me wanna go...well...crazy on someone.

12)No One - Alicia Keys.

This is my current favorite song. UPS and I had a really good time last weekend because this song was playing and I just lost myself in love (and lust, yeah.)

Is it getting hot in here??

13)When You Say Nothing At All - by anyone.

I don't care who is singing this one - Keith Whitley, Allison Krauss, Ronan Keating, it doesn't matter. This song usually makes me feel like emotional, lay-it-all-on-the-line love making.

So now you know what gets my heart thumping, the river flowing, and my emotions going...How about you? What song tickles your...fancy?


And now for a request. Next week I want to get personal (what? you ask. You mean even more so? Yes.) Post a question in the comments section and I'll answer 13 of them next Thursday, and the rest probably on Friday.

Enjoy the rest of your week!